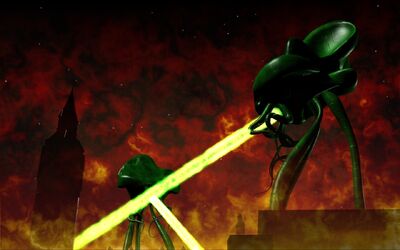 "The War" is a series of films based on the H.G. Wells short story, The Crystal Egg and the Novel the War of the Worlds, currently in production by Manga Gothic Media. It is reported to be an Open Source Movie created primarly in Blender 3D and edited in open source. It has currently seen 2 revisions and updates but the initial release is project to come in at 4 to 5 disks, with 5 films and a total of 5 to 7 (perhaps more) hours of material, all the files, including the models, the FX and the programs used to make it. This will also iclude several documentaries and tutorials. The prime animator and creator of the film is Josh Clark
Ad blocker interference detected!
Wikia is a free-to-use site that makes money from advertising. We have a modified experience for viewers using ad blockers

Wikia is not accessible if you've made further modifications. Remove the custom ad blocker rule(s) and the page will load as expected.